Nylon-12 is the best known and the most widely used microsphere employed in cosmetics. It's typically known as an opacity and bulking agent in the industry. Below we dissect more of its benefits and uses in skincare to help you explore and understand Nylon-12's unique and versatile properties.

Advantages and Uses of Nylon-12
First used in the mid-1980s, Nylon-12's "ball bearing" effect became ubiquitous in pressed and loose powders and then spread further into liquid makeup and creams, lotions, and other products.¹ The spherical shape of the particles in Ally-Nylon12 imparts an elegant silky texture, improved slip, and better blendability for a more natural finish.²
Use levels range from 1–50% by weight. Nylon-12 can provide a non-tacky, velvety, or powdery after-feel, going from the lowest to the highest use levels. It's often used as the primary ingredient in cream-to-powder products. The optimum spherical particle size for a microsphere to exhibit the highest 'slip' is 10 – 20 microns.³ Ally-Nylon12 has an average particle size that fits this range perfectly. Of all the uncoated microspheres, nylon imparts the creamiest feel and is the most effective at reducing tackiness. Pressed powder eyeshadows especially benefit from this extra creamy feel.
A property of microspheres, Nylon-12 in particular, uses to its advantage its ability to scatter light. This effect substantially reduces the appearance of fine lines on the skin, leaving the "optical blurring" or "soft focus" effect.⁴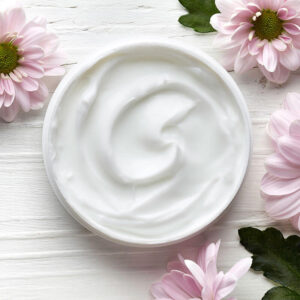 Since the density of Ally-Nylon12 is significantly lower than the typical talcs, clays mica, kaolin, and other minerals it typically replaces, the resulting products have a lighter feel on the skin. This can be a large benefit for makeup products that are applied in relatively high amounts and/or products that have very high 'coverage'.
Anhydrous products too can benefit from the feel imparted by Ally-Nylon12. Lipsticks, blushers, and lip balms formulated with 2–5% Nylon-12 will have easier, more uniform applications. Consumers often complain about the difficulty of uniform application and the final feel of sunscreens from almost all delivery forms. Ally-Nylon12 can greatly improve these aspects.
In nail care products, Nylon-12 can function to improve nail strength.⁵
Product Name:
Ally-Nylon12
Product Code:
1077-NYLON12
INCI name:
Nylon-12
Origin:
Synthetic
CAS No.:
25038-74-8,
EINECS No.:
297-639-2
Microbiology:
Total aerobic plate count: <100cfu/g
Pathogens: none detected≤100cfu/g
Shelf life:
Unopened, 36 months from date of manufacture
Storage:
Store in a cool, dry place, away from sunlight
Typical analytical results:
(Not to be used as specifications)
Appearance
Soft white powder
Odor
Odorless or nearly odorless
pH:
6.0 – 7.5
Moisture
<1%
Melting point
~180°C
Density
~1.01 g/mL
Apparent density, packed
0.28g/cm3
Particle size:
Average
8 – 12 microns
<5 micron
0.0 – 4.0%
>20 micron
0.0 – 2.0%
Surface area
2.5 – 5.5 m2/g
Summary
You can be at peace knowing that Ally-Nylon 12, like nylon 12, shares the same benefits and advantages when used on your products. Get to know more about our very own Ally-Nylon 12 through one of our trusted professionals today. Explore possibilities for your products and skincare health with only the best natural and organic ingredients and raw materials in the market.
References
Encyclopedia of Polymer Science and Engineering. John Wiley & Sons, 1985, p752
W Griehl, D Ruestem. Nylon 12-Preparation, Properties, and Applications. Industrial Engineering Chemistry Research, 1970, vol. 62, pp 16–22.
Y Shao, D Pekarek. Microspheres, chapter 38 in The Chemistry and Manufacture of Cosmetics, Volume III, Ingredients, 3rd edition. M. Schlossman, ed. Allured Publishing, 2002
https://www.olay.com/en-us/skin-care-products/regenerist-micro-sculpting-cream-moisturizer. Proctor & Gamble. Retrieved September 30, 2017.
D Garlen. Nail Polishes, chapter 27 in Harry's Cosmeticology, 8th Ed., M Rieger, ed. Chemical Publishing Co. 2000, p582